More than the right bow and arrow, you also need to use the right boat if you ever plan to go bowfishing. According to experts, you should find one that can easily navigate even in shallow bodies of water. Skiffs, pontoon, and jon boats are some of the best choices.
If you are thinking of investing in the best bowfishing boat but you have no idea which can offer the best value for money, keep on reading and we'll help you make the right decision. It can be costly, but it is going to be worth it, especially because it offers endless ways to relax and have fun. After all, not a lot of people can have the luxury of owning a fishing boat!
What are the Best Types of Bowfishing Boats?
As you try to look for the best boat to buy, it is important to be familiar with some of the best types for bowfishing, which include the following:
Jon Boats: Especially those that are made of aluminum, this is a popular choice when you are fishing in shallow waters that cannot be accessed by a boat with a V-shaped bottom. With a flat bottom, this will make it easier to build a deck as your shooting platform.
Flat-Bottom Skiff: This is often made of fiberglass and known for being lightweight. They are also easy to maneuver, which makes it popular for bowfishing. More often than not, it is powered by a trolling motor.
Pontoon Boats: Compared to jon and skiffs, pontoon boats are better in terms of being more stable and wider. This means that you will be able to install more lights and you will have a wider deck for bowfishing. It can be powered by a fan, trolling motor, or outboard.
How to Look for the Best Bowfishing Boat
To make it easier for you to narrow down the possibilities, here are some of the most important things that you have to take into account:
Size: Whether you need a small or big fishing boat will depend on a number of things, such as your budget and how many people will be using it at a time. A larger boat is better, providing you with more space to move. This can also improve the accuracy of your shots.
Set-up: From the console to the lights, pay attention to the set-up of the boat. Some boats are sold bare. In case of the latter, make sure that it will be easy to set-up based on what you desire.
Deck: One of the major requirements for a bowfishing boat is to have a deck or a platform with enough space for you to aim and shoot. It should also be stable so that you can stand properly. For cheaper boats, on the other hand, they only have a seat instead of a deck.
Lights: If you fish at night, it will also be good for the boat to have lights. In most cases, they can be installed as an after-market part. This is better since you can choose your own type of light.
Motor: You do not need the most powerful motor for your bowfshing boat. The more important thing is for the motor to be reliable and quiet. If it is too loud, this can possibly drive the fish away from your location.
Stability: Even if you will be fishing in shallow and calm bodies of water, stability is still an important consideration when looking for a bowfishing boat. Flat-bottomed boats are preferred because they are stable. When the boat is stable, you will be able to shoot with better accuracy.
What Accessories Should Your Boat Have?
Before we discuss some of the top picks available on the market, let me give you a quick rundown of some of the best accessories that your bowfishing boat needs to have:
Cooler / Storage Box: Whether it is for your drinks, tackle, fresh catch, or anything else that you will need, it will make you more organized.
Seat: Some boats have an option to install an additional seat for your comfort, especially when you just want to rest.
Boat Cover: When you are not using your boat, a cover will be a good way to protect it from external elements that could speed up wear and tear.
Shade: A boat shade or an awning will come handy to provide you with protection from the harsh heat of the sun.
Generator: This is one thing that will come handy when it comes to powering lights and other electrical components you might use when fishing.
Our Top Picks for the Best Bowfishing Boat
Below are some of the products that you might want to take into consideration, as well as a few of the features that give them an edge over others within the competitive landscape.
1. Grizzly 2072 MVX CC Sportsman

Anyone who is serious in bowfishing should consider this as a top choice for a boat. It is made of aluminum, a material that is known for offering incredible strength, one thing that makes Tracker boat a cut above the rest. It is 100% aluminum and does not have any wood.
When it comes to the interior, meanwhile, it has foam-filled and welded-in side walls. The latter does not only offer structural strength but also effectively absorbs noise.
The boat has a set-up that is ready for your next fishing trip. For instance, it comes with a 28,000-lumen bow light that is also removable, perfect for fishing at night. There is also an on-board DC generator.
Another feature that makes it perfect for bowfishing is the elevated and removable shooting deck, which is designed with a seat base and arrow holders.
To make it deliver a reliable performance, it has a foot-control trolling motor.
2. Alumacraft MV 2072 Bowfishing Boat

Ready for play – this is what you can expect from this bowfishing boat, which is designed for freshwater fishing. It comes with an all-welded central console and two removable seats for your comfort.
It also comes with a Lit Cooler, which will provide a space to keep your beverages cool or to keep the fish that you will catch on your next trip.
The boat comes with one fuel tank that has a maximum capacity of 30 gallons, making sure that you have more than enough fuel to last the night.
Similar to the construction of the boat above, this is also made of high-quality aluminum, providing you with a guarantee of being tough.
Lastly, this bowfishing boat has a five-person capacity. It also comes with a spacious deck where you can position yourself when you are ready to shoot.
3. Lowe Roughneck 2070 Archer

Bowfishing can be a lot easier if you have the right gear, and of course, the right boat. This model holds a lot of promise, with one of its best assets being the elevated deck, providing you with the right place to aim and shoot.
Looking at the technical specifications, this boat has an overall length of 6.60 meters while the beam is 96 inches. The bottom width, meanwhile, is 70 inches. To add, the fuel capacity is 19 gallons. It has a maximum capacity of five persons or overall weight of approximately 660 pounds.
To make the boat durable, it comes with an all-welded and all-aluminum construction. Even the floor is made of aluminum, which can easily stand abuse through many years of use.
4. Sun Tracker Bass Buggy 16 DLX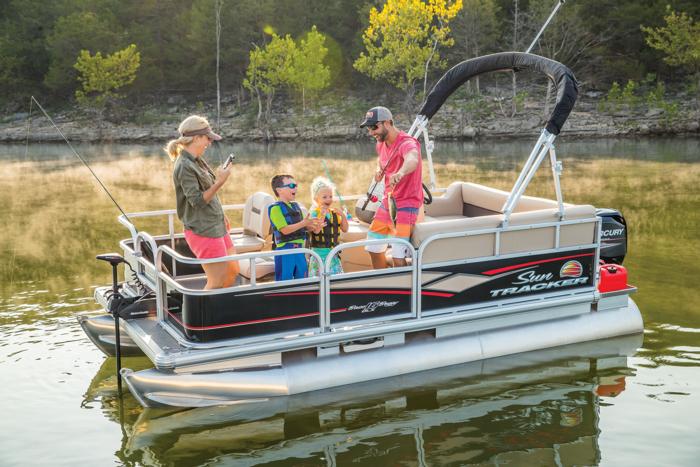 This spacious bowfishing boat is perfect for up to seven people, and still, you can enjoy enough space to move around. It has a length of 16 feet and powered by a four-stroke engine. It is fitted with multi-chambered pontoon logs, which have a diameter of 24 inches.
In terms of design, it comes with dual-latch gates, making it easy to enter and get off the boat. At the back, there is a lounge seat, which also doubles as a storage. Meanwhile, in the front, there are also two fishing chairs with adjustable position.
5. Classic Accessories Colorado Inflatable Pontoon Boat with Motor Mount

This is a refreshing alternative from the four products that have been mentioned above, especially for people who have a tight budget. This is a more affordable option, but it is smaller and it comes only with a seat, instead of a deck where you can stand when aiming and shooting.
This boat has an anchor system to keep you in your place once you have already found your spot. There is also an option for motor mounting. It has a length of nine feet and best used for fishing in a river. Meanwhile, the weight capacity is 400 pounds.
It is also a well-loved boat because it is inflatable, making it easy to bring with you on your next fishing trip.
Conclusion
At this point, we hope that it is now easier for you to choose the best bowfishing boat. It can be a costly investment, but it will be worth every dollar spent as it will make your fishing trips more comfortable!